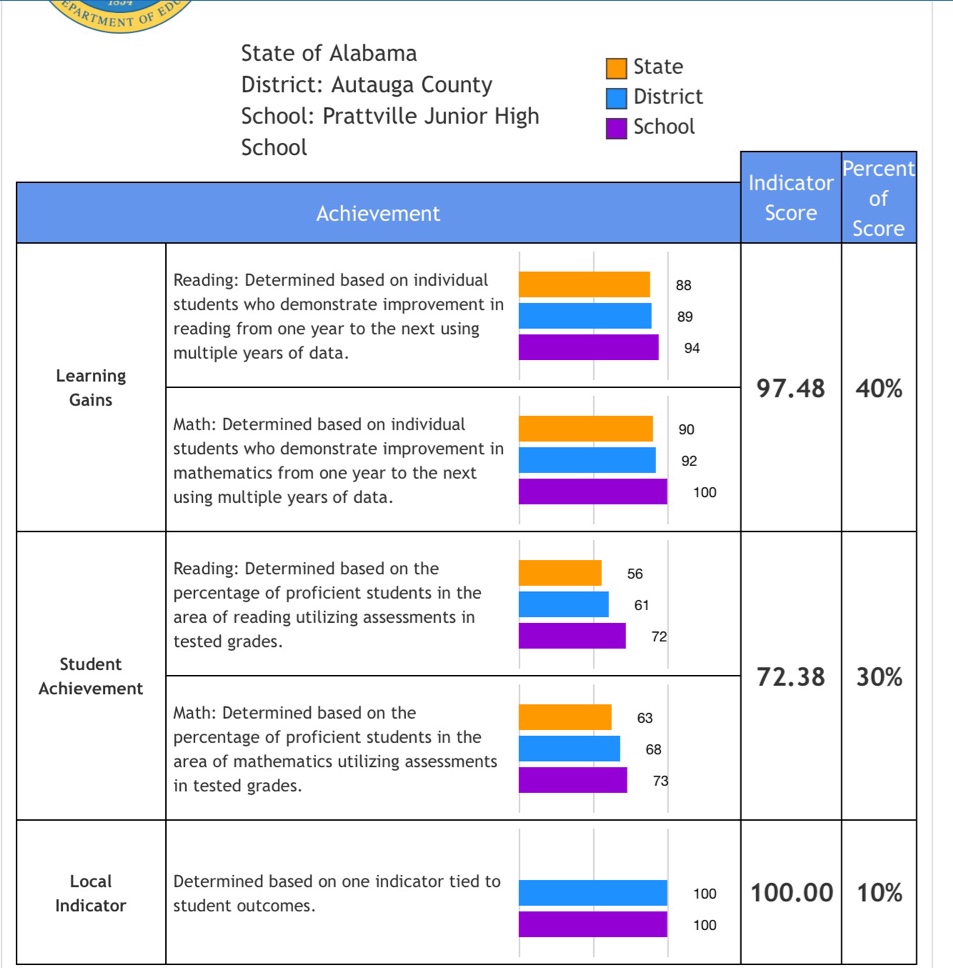 PJHS ROCKS!!!!
We toppled Auburn Junior High and Enterprise and Florence and Opelika and Troy and the entire tri-county area! We still have some work to do to catch up with Hoover and Mt Brook and Huntsville - but we will! The fact that we have done so WELL with limited funding can ONLY be attributed to the INCREDIBLE AWESOME WONDERFUL FANTASTIC teachers in Cat Country.

If you are interested in checking out other schools across Alabama ), click here.


---
DIGITAL SIGN PROJECT
The above picture is the current sign at PJHS in front of the building. Keeping the same brick frame, we will install a digital sign in the "guts" of the fixture. This would allow us to maintain the integrity and history of the school while making it more modern. It would also allow us to keep the information on the sign very current through the ease of computerized updates.
Cost: $16,000 Funding Source: Donations
Currently, we have almost $11,000 toward this project. If you know of a donor (business or individual) who would like to donate to finish our fundraising efforts, we would be happy to provide tax documentation for a monetary gift. We would also provide sponsorship ON the sign for the remainder of the school year. Thank you for any support you can provide for the students of PJHS!
---
You can recognize a teacher in our "Real Cats Roar" program. Simply send an e-mail to Lashonda.houser@acboe.net with the information and they will be entered to win a weekly prize.
Thank you teachers for taking a hand, opening a mind, and touching a heart!
---
Circle of Champions Tutoring will begin again in January.....stay tuned!
---
Watch all our student produced videos. Visit the "Spotlight" page for a complete listing of videos available and visit often to keep up with the latest additions.
Thank you for your support!!!! Go CATS!!!!
---
Yearbooks On Sale
Students can order online through January 16 for $40
by clicking the yearbook below.
The next time books may be purchased is
at the signing party in May for $45 cash.
---
Box Tops may be turned in during homeroom or dropped off in the Library Media Center.
Click here to see a video.
Thank you for your support.
Mrs. Athenia Weldon , Media Specialist & Box Top Coordinator
---

PJHS is now on INSTAGRAM!
Search @CATSPJHS and +FOLLOW for updates, fun pics, and all the excitement at PJHS!
---
The Autauga County 2016-2017 School Calendar has been approved.
---
Free Math and Science Tutoring
---
Click the link below to view the 2016-2017
Prattville Junior High School Alabama Continuous Improvement Plan
---